Francesco
Forum Admin






Luxembourg
8991 Posts

Posted - 05/02/2020 : 10:02:21




---
quote:

---

Originally posted by Jacek Kurzawa

Oldest article should be Gistel (1848) but I havn't it.

---
I have not found this paper either; nonetheless, the first mentioning both tribe is Lacordaire (1869b).

(p. 288)
Section A - Métasternum très-court, au maximum et rarement médiocre. Front rectangulaire, jamais rétréci en haut; tubercules antennifères divergents. Yeux plus ou moins fortement granulés, leurs lobes inférieurs médiocres, étroits et obliques. Prothorax jamais inerme latéralement. Corps très-souvent aptère, avec les élytres soudées. ... Phrissomini and Lamiini

(p. 298)
Section B - Métastemum plus ou moins allongé, jamais très-court. Front tantôt rectangulaire, tantôt peu à peu rétréci en haut, par suite trapéziforme. Elytres jamais soudées. Corps ailé. ... Monochamini

I hope that nobody thinks that Lamia is wingless...


Since it is winged and it flies as Monochamus!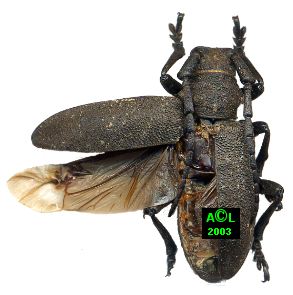 From Insect.net