cholerik007
Member Demonax


Czech Republic
83 Posts

Posted - 04/01/2022 : 15:48:02



---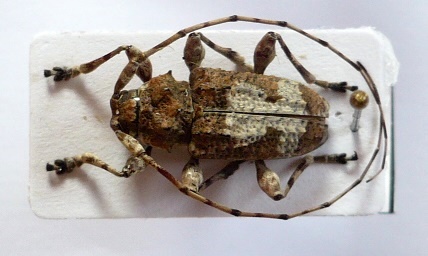 53.5 KB

La Chonta, Santa Cruz dep., Bolivia
---
Edited by - Gerard on 04/01/2022 17:11:11
Max
Member Rosalia




Russia
672 Posts

Posted - 12/01/2022 : 20:56:55



---
It`s Exalphus.
According to Diego de Santana Souza & Marcela Laura Monné - "Synopsis of the genus Exalphus Restello, Iannuzzi & Marinoni (Coleoptera, Cerambycidae, Lamiinae), with description of a new species and new country records." :
"...Bolivia (La Paz); however, all examined specimens that
were identified as E. leuconotus from these localities actually correspond to E. guaraniticus."
So it is Exalphus guaraniticus (Lane, 1955) in all probability.
---
Edited by - Max on 12/01/2022 20:59:40